Every now and then, you might want to send money to your loved one in your home country. And there are so many platforms for a money transfer. But you don't know which one to choose and which one can be trusted.
So here I am, who compared different platforms for you guys. I can tell you which one is the Best and Cheapest way to send money abroad.
First, let's discuss the platforms and at the end of this Blog. I will show you which one is the best.
Western Union
Number 1 on my list is Western Union, which you might already know. But so far what I encounter is that people don't know about the WesternUnion bank to bank transfer option.
Most people know that you can send money via western union's agents and then your recipient can pick up the cash from the agents in their country. This is the same as Ria Money transfer and Moneygram You can easily find their agents in your city and then you can send money via these agents.
But here I want to talk about bank-to-bank transfers. So what you have to do is make an online account on the Western Union website. And after verification, you can either use your credit card or online banking option to send money directly to the recipient's account. This is a cheaper option than sending money to an agent.
At the end of the Blog, I will also compare this agent option with other options as well.
Here is the link: westernunion.com/de
Transferwise (New Name Wise – Updated 03.10.2021)
On Number 2, I have Transferwise. I have been using this service for 3 years now and until now this is the fastest and most reliable option that I have used. With friendly customer service.
I think I can say that they are the pioneers of money transfer. but that's just my opinion,
One thing which is different in Transferwise is that you can not send money to any agent. You can only transfer money from bank to bank. So you just need the name, Email address, and International banking account number (IBAN) of your recipient. With this info, you can send money very easily.
Here are the links: USD, GBP EUR, AUD & JPY
Another reason why I like Transferwise is that you can also order a free debit card from Transferwise which is the perfect travel companion. If you want to know more about credit cards then I already made a video, you can watch the video at the end of the blog. You can also read the best credit and debit cards in Germany
ACE
On Number 3. I have the ACE money transfer.
Well, I am its new user but I think the last 3 times I have sent money using this platform.
Why? because they were giving me the best conversion rate. After this incident, I always check the conversion rate on Transferwise and ACE money transfer and whoever is giving me the best transfer rate. I just use that and send money from that platform.
It is similar to Transferwise. You just need the name, email address, and IBAN of your recipient. Besides this, now you can also send directly cash to some of the banks in Pakistan and cash will ready to collect in 30 minutes. Moreover, you can also pay bills and get a mobile top-up from Germany.
Here is the link: www.ace.com
Skrill
On number 4, I have found this service. Before posting the video. I used to send money from ACE, but after knowing about Skrill. I have shifted to it.
Now I always use it for my international transfers. Skrill not only the platform where you can send money abroad but you can also buy stocks on it and much more stuff.
In this blog, I am focusing mainly on money transfer platforms so we can discuss other services of Skrill some other time.
For Skrill, I would like to add that, they say on their website that it takes approximately 5 days to transfer the money. But my first transaction reached the recipient in 1 hour and the last transfer took 1 day. So if you are not limited by time, then I would suggest using Skrill.
Here is the link: Skrill.com (15€ bonus with this link)
Comparison of all the mentioned platforms
Until now I have used these above-mentioned services to send money to Pakistan, Australia, the USA, Romania, and UAE.
I had never faced any problem with any of these services. These are super-fast, reliable, and easy options. So now It's time to compare all of them.
As an example, I wanted to send 1000€ including the transfer fee to Pakistan. I will first mention the expensive option first and then go to the cheapest one. (At the time when I wrote this post)
1.) Western Union's Bank to an Agent option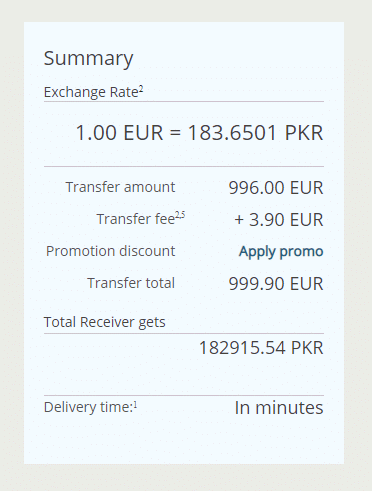 Here my recipient will get 182.915 PKR
2.) Western union's Bank to Bank option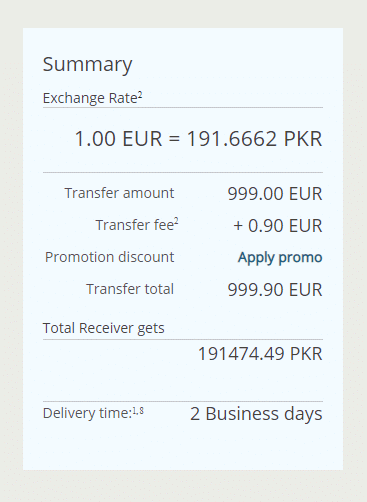 Here my recipient will get 191,474 PKR
8,559 PKR difference from the 1st
3.) Transferwise's Bank to Bank option (Fast transfer Option)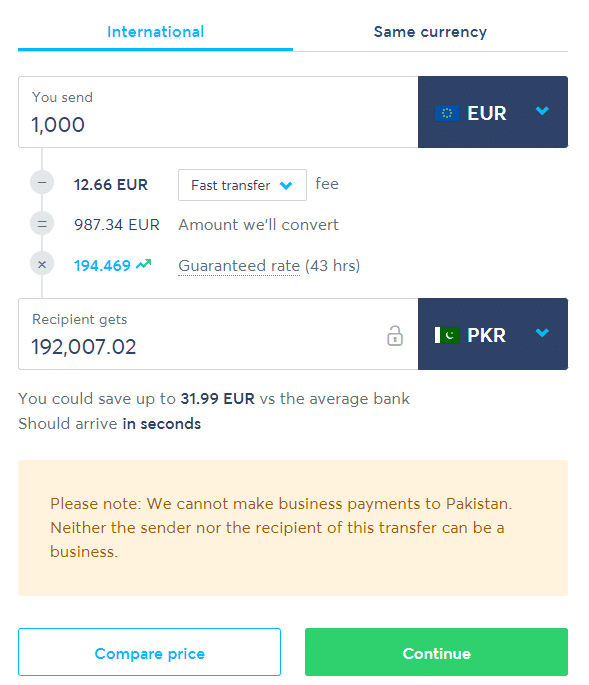 Here my recipient will get 192.007 PKR
533 PKR difference from the 2nd
4.) Transferwise's Bank to Bank option (Low cost transfer option)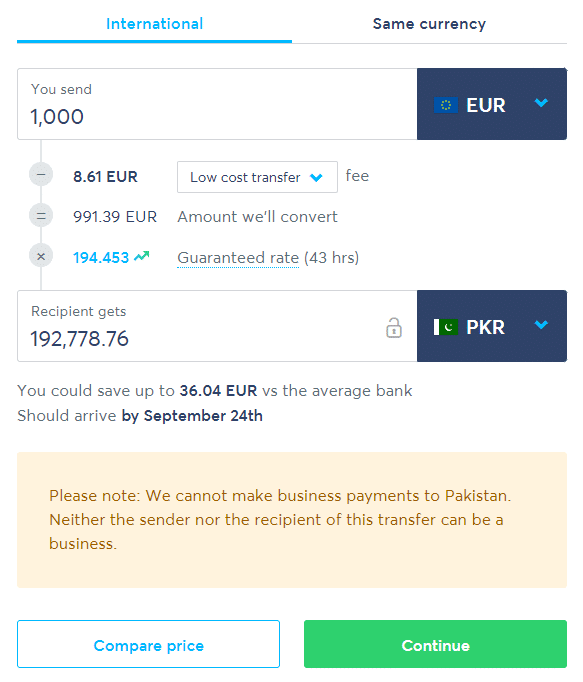 Here my recipient will get 192,778.76 PKR
771 PKR difference from the 3rd
5.) ACE money transfer Bank to Bank option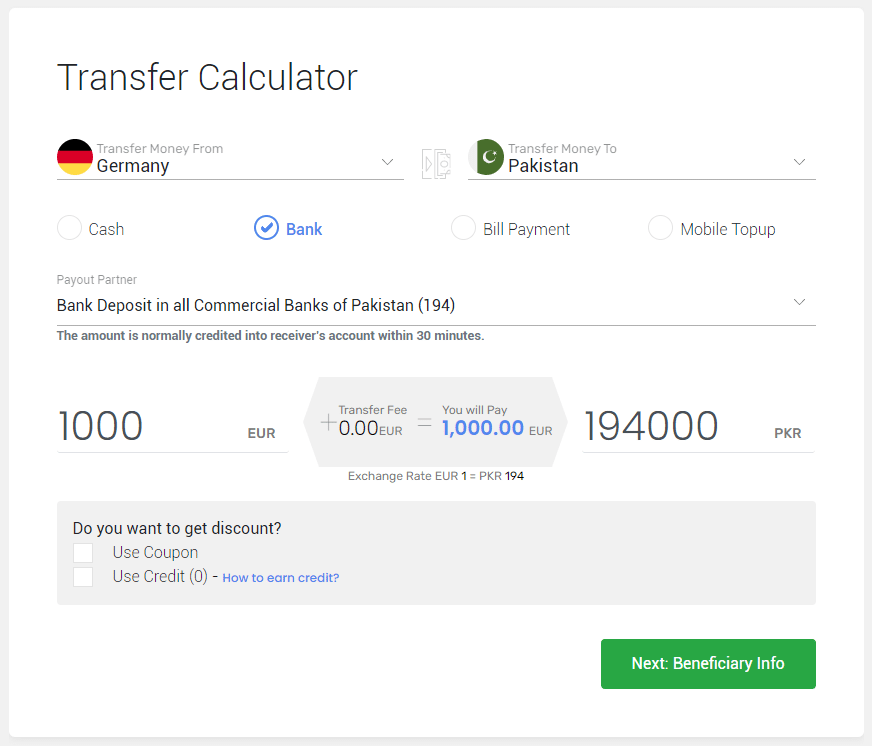 Here my recipient will get 194,000 PKR
1,222 PKR difference from the 4th
6.) SKRILL (Winner)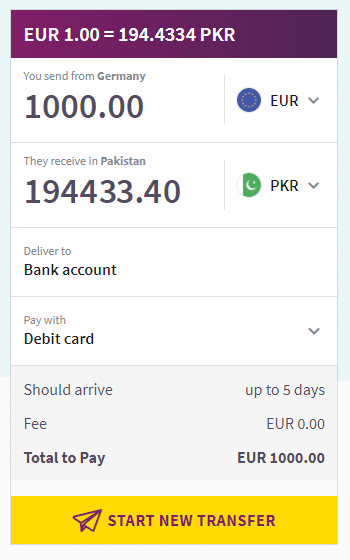 Here my recipient will get 194,433 PKR
433 PKR difference from the 5th
The winner of this comparison is Skrill. Now guys it's your choice now, which one you want to use. I have used all these services and I never had any complaints with any of the platforms.
If you want to send money in minutes then I would like to mention that The western union's and ACE Agent's option is good because all the other services take around 1 to 2 business days.
Now the problem is that the differences are not that much and as a user, you don't want to check each platform for the comparison before you transfer the money.
That's why I have found another platform, which compares all the prices for you. Monito.com Even in Monito, Skrill is the best deal.
The rate is not the same as I have shown you above but I think it is due to a delay in conversion rates.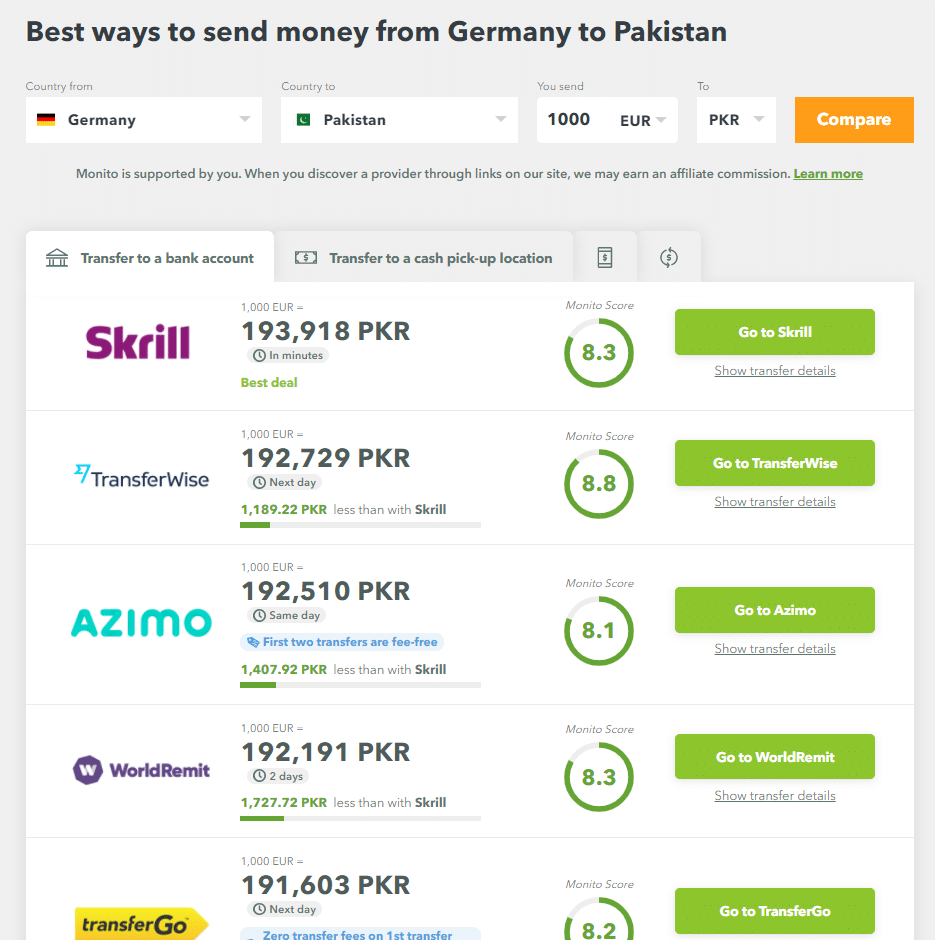 NOTE: Monito works for all the countries, so you can also check the rate of money transfer from your country of residence to your recipient's country on their website and also the best money transfer options for you.
If you want to support me then please make your account using these links. (There are referral links)
Western Union: Click here
Transferwise: Click here for USD, Click here for GBP & Click here for EUR
ACE: Click here
Skrill: Click here (15€ bonus with this link)
Monito: Click here